Meeting Planners


True GREATNESS Is—As True GREATNESS Does!


Bring in a Quality Speaker That Will Connect, Interact With, and Inspire
Your Youth, Teens, Students, Educators, or Professionals to Take
Continuous Action for Success and True GREATNESS!
One of the most important factors in the success of your meeting, school assembly or event is the speaker you bring in. If your group is in need of a quality motivational speaker who will deliver dynamics, substance, take-home value, self deprecating humor, interactive segments, and fun entertainment — then you'll look like a genius when you bring in Ty Howard to speak to and connect with your group. Ty gets to the root causes of choices, toxic relationships, fear, procrastination, inactivity, unhealthy habits, and shows your young people how to overcome these factors to win in school, their community, family and life! His trademarked "You Were Born to Be G.R.R.R.R.E.A.T.!!!!(TM)" and "Untie the Knots® That Tie Up Your Life" programs are a grand slam homerun at every full-school assembly and teen conference.

Ty Howard is recognized around the world as a highly sought after dynamic motivational speaker, character education and development expert, and empowerment consultant for teens, students, leaders, and student athletes. He teaches young people and the professionals who work with and develop them: how to defeat toxic habits, maintain a positive attitude, become successful leaders, and achieve true greatness. With over 18 dedicated years as a Dynamic Youth Speaker, Ty has a proven track record for delivering practical enrichment and empowerment programs that bring forth immediate positive change, desired outcomes, and real-life results.

Ty Howard is very easy going and a joy to work with! He brings to every presentation—passion, knowledge, energy, care, and the winning attitude that "True GREATNESS Is—As True GREATNESS Does!" Every group is treated like Ty's first and most important group. He will walk-in with a presentation that will deliver on and exceed your desired meeting needs and goals. Ty's ONLY Goal—Is to ALWAYS Help You Reach YOURS!

Give Ty Howard the opening keynote at your conference, and you will have each participant eager to get started and involved in all the conference has to offer. Or have Ty as your youth leadership retreat closing keynote speaker, and send your youth leaders out the door energized and prepared to lead with confidence, integrity, and by example. Either way, your young people and professional staff will be inspired to perform at their peak, manage time more effectively, alleviate procrastination, embrace change, employ civility, celebrate school spirit and diversity in a positive way, and achieve school campus and life enriching success daily.
Ty is often booked 6 to 14 months in advance. Do not miss your school assembly, special program, leadership retreat, camp program, professional development day,
in-service training or association conference date. Move fast—call or email us NOW to book Ty Howard for your meeting date!

Here's Where YOU WILL Get—
Dynamic, Entertaining, and Inspiring Teen Enrichment Programs
That Make You Look GRRRREAT and Feel
You Made a Smart Investment for the
Empowerment and Continuous Success of
Your Teens, Students, and Youth Development Professionals.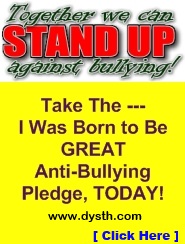 Ty Howard's Process to Create a Safe & Bully-Free Zone

---
---

Download "Ty Howard's - Speaker InfoPack" (PDF)

Download "8 Ways to Fund Ty Howard's Teen or School Programs" (PDF)
What Separates Ty from Other Youth / Teen Motivational Speakers?
---
---
Click here to: Book Ty or Here to learn: How We Work With A Client
For more detailed information about Ty's programs and products,
please contact us:

Inspiragen Institute, LLC
6400 Baltimore National Pike, Suite 134
Baltimore, Maryland 21228
Phone: (443) 982-7582
Email: info{AT}dynamicyouthspeaker.com