Professional Development Training


Professional Development Training Programs

( ALL programs below can be delivered in a keynote, plenary session, general session,
workshop or educational session format. )


The following programs are a GREAT fit for:

Teachers In-service

Administrators / School Principals In-service

Guidance Counselors In-service

Early Childhood Educators, Child Care Center Owners, Directors and Staff

School Nurses In-service

School Resource Officers Training

School District / Board In-service

School Bus Drivers and School Bus Aides In-Service

Full Staff and Faculty (All Hands) Training

Support Staff Development Training

Camp Directors / Instructors / Leaders Training

Youth / Teen Worker Development Training


New School Year Kick-Off Keynote - Motivational Programs
- ( Always Dynamic, Re-Energizing, Inspiring, Engaging, and Fun! )

---
Call for Program Prices / Fee Schedule: Toll Free: 1-800-385-3177
---
Ty's Professional Development & Training Programs...

1. Re-Igniting & Re-Capturing Your PASSION

2. The Revolutionary School Principal
- (or Teacher, Counselor, Early Childhood Teacher, Administrator)

3. Building an Attitude of Excellence

4. How to Better Connect With and Relate to Today's Student

5. Excelling in Teamwork - (or Leadership)

6. You Have to FOCUS and S-T-R-E-T-C-H for Continuous Success

7. Tying Into A Better YOUTM

8. Working with Children and Families in Poverty

9. Reaching, Inspiring, Teaching, and Empowering Students (or Teens) in Poverty

10. Effective Time Management: The Art of Getting Things Done

11. Bullying Prevention:

NO Bullying Allowed! Save a Life. Save a Student. Save a Dream.


( Additional Bullying Prevention Programs Offered by Ty )



12. Making the Embracing & Celebration of Diversity in School, Cool

13. Resuscitating Your Self-Talk: Going From Negative to Positive at the
Speed of Life

14. Seeing the VALUE, and Feeling and Celebrating the LOVE of Teaching

15 Untie the Knots®: Riding the Waves of C.H.A.N.G.E.

16. Untie the Knots®: Improving Habits, Choices, People, Relationships,
Performance, and Results

17. Stree-Free Relationships: How to Work Harmoniously with Any Personality

18. The H.E.A.R.T. of a Passionate and Caring Teacher

19. You Make The Difference!


































How to Motivate Teachers – An Article by Ty Howard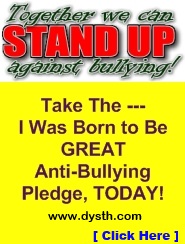 Ty Howard's Process to Create a Safe & Bully-Free Zone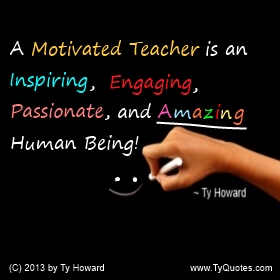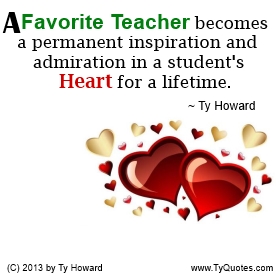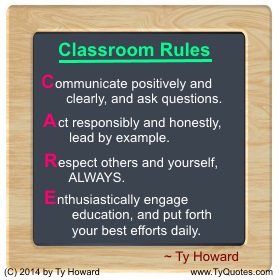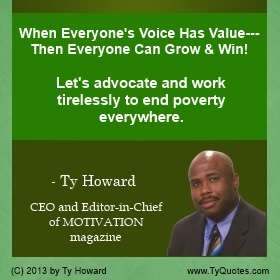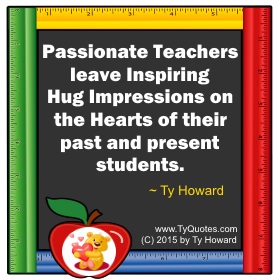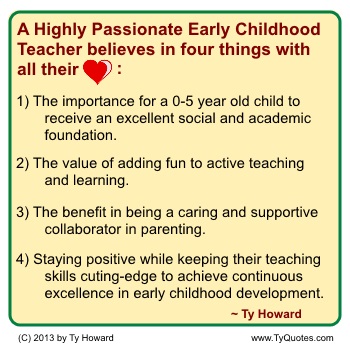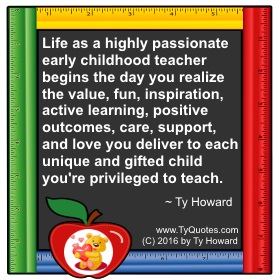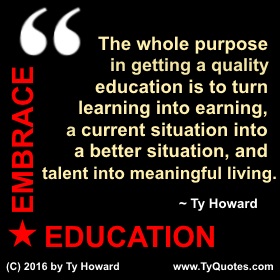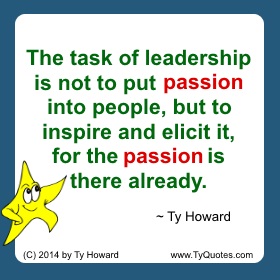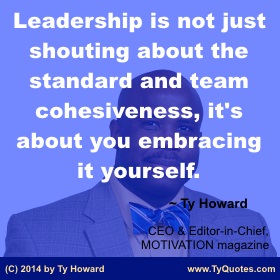 More Motivational Quotes for Teachers by Ty Howard

---
Award & Recognition Ceremony Keynote Presentations

1. Be the ONE!
2. You Have to F.O.C.U.S. and S-T-R-E-T-C-H for Continuous Success
3. You Make THE Difference
4. Together—We Can Inspire and Capture GREATNESS
5. Let's Get 'LOL' Over What It Takes to Work Together Today

*** Ty, will customize and develop a dynamic and inspiring keynote session, or a half-day
or full-day in-service program to connect with and exceed the needs of your group.


Leadership & Team Building Programs

1. Leading with Confidence, Integrity, and by Example
2. Excelling in Leadership
3. Being a Leader Who Influences, Encourages, Empowers, and Inspires Others
4. Excelling in Teamwork


Diversity & Multiculturalism Programs

1. Untie the Knots® of Diversity
2. Making the Embracing & Celebration of Diversity in School, Cool
3. The Many Hats & Masks of Diversity
4. Generational Diversity
5. Why Is Talking About Race So Hard?


Parent / PTSA Programs

1. It Takes A Committed Parent - Student - Teacher Team to WIN as
It Comes to Education
2. Tying Into A Better YOUTM
3. Keep Talking—They're Listening!
4. Partners In Education & Life, Make The BEST Parent-Child Teams!




---
---

Download "Ty Howard's - Speaker InfoPack" (PDF)

Download "8 Ways to Fund Ty Howard's Teen or School Programs" (PDF)
---
---
Click here to: Book Ty or Here to learn: How We Work With A Client
---
---
For more detailed information about Ty's programs and products,
please contact us:

Inspiragen Institute, LLC
6400 Baltimore National Pike, Suite 134
Baltimore, Maryland 21228
Phone: (443) 982-7582
Email: info{AT}dynamicyouthspeaker.com